Strengths and Characteristics
The Gendai Agency Group moves rapidly to provide added value services to support clients' strategies to attract customers.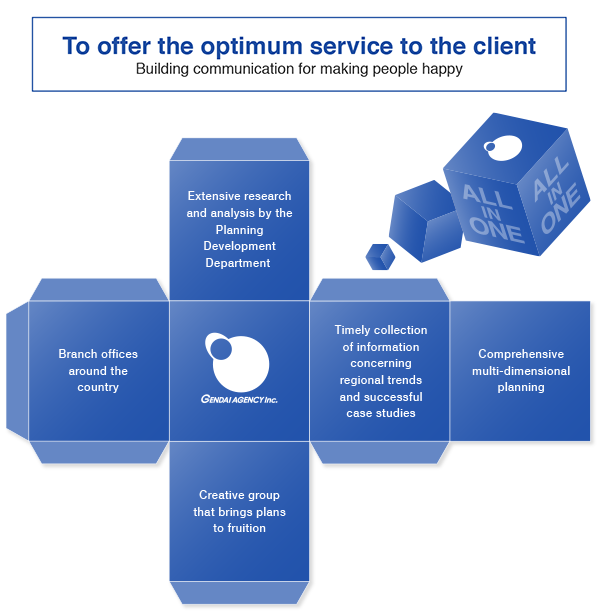 Realize strategy to attract customers through "All in one"
We propose comprehensive, multi-dimensional plans from one-on-one to mass media marketing. From identifying needs through exhaustive interview surveys, to proposal drafting, targeting, implementation, and impact verification backed by marketing activities and vast volumes of data, we assist clients in making their next moves.
Consolidation and Diffusion
Branch offices nationwide: Grasp latest trends and characteristics, and gather information on successful cases by working closely with the local communities
Planning Development Dept.: Research, analysis, and launch of new services and products
Creative group: Team of directors and creators with in-depth, wide-ranging knowledge about media and design
In addition to compiling these diverse information and material as database in a timely manner, we will offer the latest and optimum service at all times by building an in-house network system that can be accessed in real time from anywhere in Japan.
Flexible stance
Along with expertise about the characteristics and effects of existing services from mass media services to sales promotion services, we are constantly and proactively introducing new services, while maintaining the flexibility to customize services to match the needs of a diverse range of clients and striving to maximize added value.