To Our Shareholders and Investors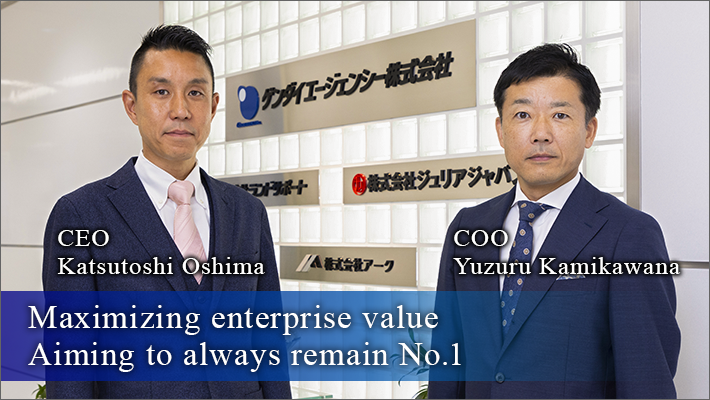 I would like to sincerely thank all of our shareholders for their support and patronage.
 I am pleased to report the financial results for the fiscal year ended March 31, 2016.
 During the fiscal year ended March 31, 2016, the Japanese economy stayed on the gradual recovery track supported by improvements in corporate earnings and employment environment, on the back of monetary easing and other measures. At the same time, the risks associated with the slowing growth in China and other emerging countries in Asia have become evident. As for personal consumption, consumer spending remained stagnant reflecting the sluggish growth in real wages and the overall outlook continues to be unclear.
The pachinko parlor industry, which is the Group's main customer, continues to face a difficult business environment in terms of revenue as the frequency at which users play games and the amount of money they spend on gaming declined due to the impact of the consumption tax rate increase in April 2014.
Regarding new parlor opening by major pachinko parlor operators, there have been delays in opening of large-scale projects that start from land acquisition due to problems such as worsening investment profitability caused by rising construction costs, and the number of new parlor opening itself also has been decreasing. On the other hand, there was a growing trend in the number of new parlors being opened by purchasing and renovating existing outlets as well as in the acquisition of existing pachinko parlor operators.
Under such circumstances, the Group carried out active sales expansion measures for Internet media and outdoor advertising in an effort to transform its earnings structure. Further, the Group started offering contract-based printing and design service to raise the general level of revenue.
As a result, net sales for the fiscal year ended March 31, 2016 totaled 16,919 million yen (down 2.1% year on year), operating income came to 1,142 million yen (down 12.2% year on year) and ordinary income amounted to 1,129 million yen (down 16.0% year on year). Net income attributable to parent company shareholders came to 490 million yen (down 39.1% year on year), as the Group recorded extraordinary losses including 125 million yen in impairment loss on goodwill of a consolidated subsidiary and 157 million yen in valuation loss of investment securities regarding some of the shares it owns.
Taking into consideration these business results, the Group will pay an annual dividend of 30 yen per share, including a year-end dividend of 15 yen per share.
 We appreciate your continued support and patronage.
Breakdown by Business Segment
Advertising Business
 In the fiscal year under review, the demand in the pachinko parlor advertising market significantly decreased given the intermittent cutbacks in advertising expenses by the parlor operators due to worsening profitability, in addition to the demand decline caused by the advertising restrictions continuing from the previous fiscal year. Further, regarding the orders for pachinko parlor grand opening advertisements, which are special demand projects, Gendai Agency secured a similar number of orders in December 2015 as in the same month in 2014, a month when new parlor openings usually peak. Nevertheless, overall orders for pachinko parlor grand opening advertisements slowed as the scale of these advertising projects became smaller, partly due to an increase in new parlor openings by purchasing existing outlets.
 Under such circumstances, Gendai Agency drove forward its advertising proposal activities to increase the transaction of Internet media and outdoor advertising, which was one of the challenges for the fiscal year under review, while simultaneously implementing sales activities for steadily capturing special demand projects.
 With the aim of reducing costs through streamlining of design work, the Group utilized its consolidated subsidiary Julia Japan Co., Ltd., brought together the designers spread across the various branches under key branches and started working on reduction of direct mail-related cost by reviewing cooperating companies. It also fully embarked on contract-based printing and designing business targeting corporate customers.
 Net sales of the Advertising Business declined 2.7% year on year to 16,684 million yen and segment income fell 12.1% to 1,475 billion yen.
Real Estate Business
 During the fiscal year under review, the consolidated subsidiary Land Support Inc. (hereinafter referred to as "LS") added an office sales and leasing agreement (brokerage commission of 4 million yen) to the two existing, ongoing lease contracts.
 As a result, net sales for the Real Estate Business came to 150 million yen, up 3.0% year on year and segment income rose 6.2% to 63 million yen.
Others
 The Group started consolidating the financial results of subsidiary Gendai R1 Ltd. starting from the fiscal year under review. Net sales of the Hong Kong restaurant business at the consolidated subsidiary were 84 million yen and the segment posted a loss of 19 million yen.
Medium to Long-term Management Strategies
 As the leader in the pachinko parlor advertising market, the Group will strive to add more value to its services and improve productivity, which are its strengths, so as to ensure stable profitability even in an adverse environment. At the same time, the Group will consistently seek new business opportunities and actively develop its business to ensure sustained growth for the Group.
 The main strategic issues to be addressed in order to achieve sustained growth are as follows.
Acquire new customers, deepen business relationships and pursue low-cost operations in the Advertising Business
Penetrate the Internet media market in the Advertising Business
Expand business domain
 As we work to maximize our corporate value, we will disclose information to all of our shareholders and investors in a proactive and timely manner and follow a policy of providing returns to shareholders that reflect our business performance.
 We look forward to your continued understanding and support.